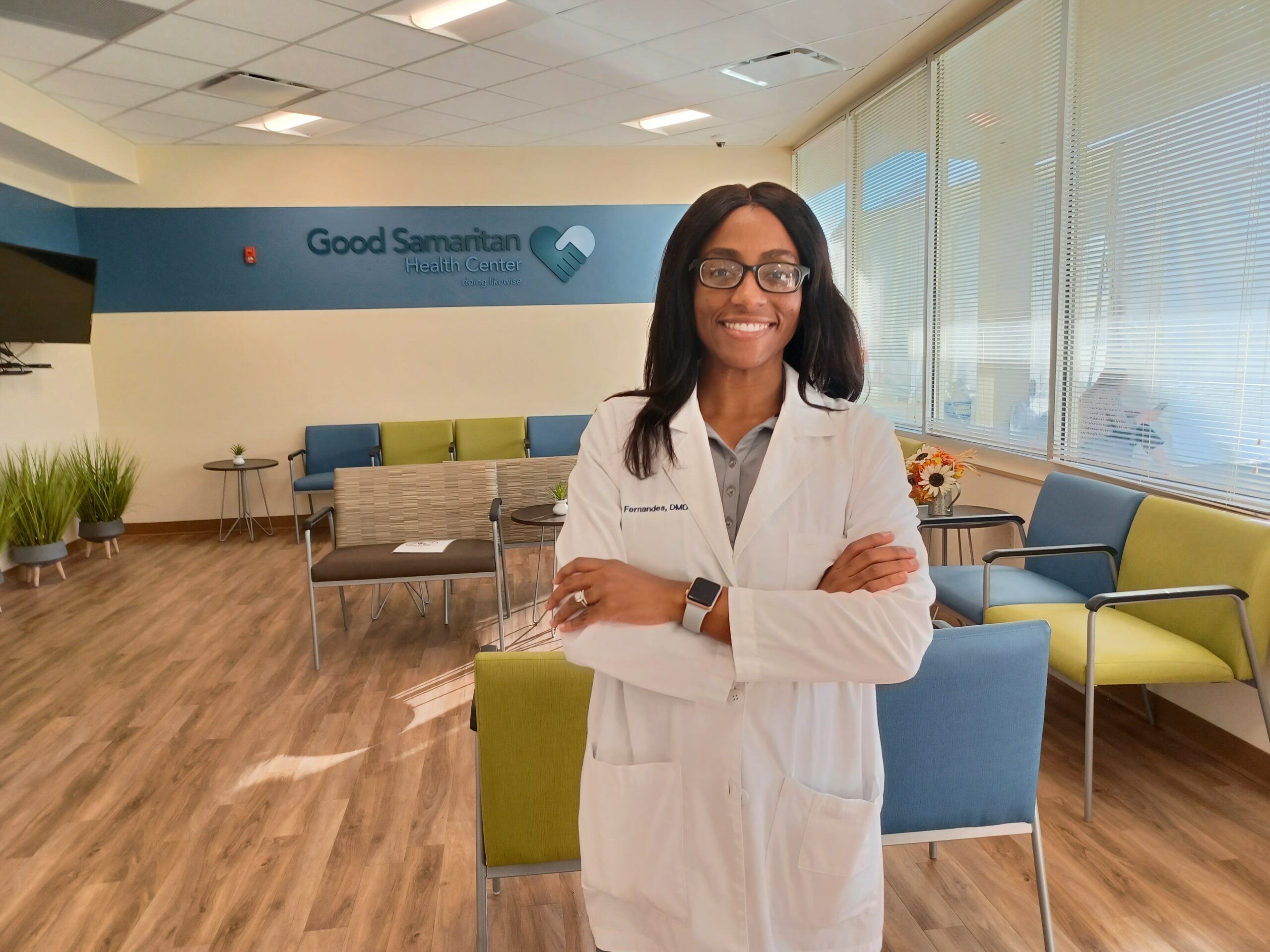 Raising up a 'Medical Missionary'
As a child, Dr. Audrey Fernandes enjoyed going to the dentist, and strangely, she recalls loving the smell of the dental office. She just knew from a young age that she would grow up to be a dentist.  
For almost four years, Dr. Fernandes has been pursuing this calling at Good Samaritan Health Centers of Gwinnett (Good Sam Gwinnett), where she serves patients who do not have dental insurance and could not otherwise access dental care.  
Though she has found fulfillment in her role as a dentist, she has sometimes battled with feeling like she is in the wrong profession. However, she has learned that putting God first helps her overcome those anxieties and continue pursuing His calling for her life. 
Comfort in God's Word
Two Bible verses help her stay motivated at work: Colossians 3:23 and Matthew 6:33. Colossians 3:23 (NKJV) gives a command to people who work under others, saying, "And whatever you do, do it heartily, as to the Lord and not to men…"  
Before coming to Good Sam Gwinnett, Dr. Fernandes started her career at a private dental clinic and struggled to keep up with the fast pace. Later, she began applying Colossians 3:23 to her work and became motivated to do her best work for God. She was able to enjoy her job despite the occasional and unavoidable frustrations that come with every profession. 
"The moment that you put God first in everything, you notice that all the things you wanted will be added," Dr. Fernandes said.  
She was referencing part of Matthew 6:33 (NKJV), which says, "But seek first the kingdom of God and His righteousness, and all these things will be added to you." The "things added" in this verse refer to basic needs like clothing, food, and drink (Matthew 6:31-32). Jesus says don't worry about these things but put His kingdom first. 
 "[Doing work unto God] makes it easier," Dr. Fernandes added. "It takes the burden off."  
Witnessing Transformations
Dr. Fernandes said that she has not come to these realizations on her own, but some of it was through the help and encouragement of other staff members at Good Sam Gwinnett.  
"God will meet you anywhere, but I just know that being here has helped me grow my faith," she explained.   
"Even now I ask the Holy Spirit, 'Hey, what should I do?' Because He knows all truth … I still do that to this day because He's your friend; He's with you," she added. "I just know that being here allows me to do that more freely." 
While serving dental patients, Dr. Fernandes sometimes asks them if they need prayer. She sees that patients are also dealing with their own anxieties, which revolve around their dental health. Some say they are embarrassed of their teeth or that their mouth is ugly.  
"It's a lot for them to come," Dr. Fernandes explained. "When you're going to the dentist, for most people, is a traumatic experience. I don't take that lightly." 
Dr. Fernandes calms anxious patients and encourages them, saying, "You're here. This is the first step. That's awesome. So now — now that you're here — now that you know, okay, let's move forward; let's not look backward."   
Reaffirming Her Calling
During the COVID-19 pandemic, Good Sam Gwinnett had to temporarily close its clinic located off of Rockbridge Road, where Dr. Fernandes worked. Employees from that clinic began working at the Good Samaritan Health Center of West Gwinnett (located on Buford Highway) during that time.   
Dr. Fernandes remembered caring for a patient at Good Sam West who had recently dealt with a serious health problem. Doctors believed he would become physically disabled for the rest of his life, but he didn't. In fact, he was doing wonderfully. 
"That's what his mom was there explaining to us," Dr. Fernandes recalled.  
The patient could walk and talk like normal. This story touched Dr. Fernandes because it was a reminder that God is above everything — doctors, nurses, and even providers at Good Sam Gwinnett like herself.  
Before the pandemic, she wrestled again with her calling, but after prayer and fasting, she remembered how God had put dentistry in her heart from a young age. She was again was encouraged and reaffirmed in her profession. She was not just a dentist; she was one of many "medical missionaries" at Good Sam Gwinnett. 
In November this year, Dr. Fernandes and her husband will be moving to Boston, Massachusetts, but she hopes to find another place like Good Sam Gwinnett where she can use her talents for the kingdom of God.   
"I can firmly say this is what He wants me to do," she said.