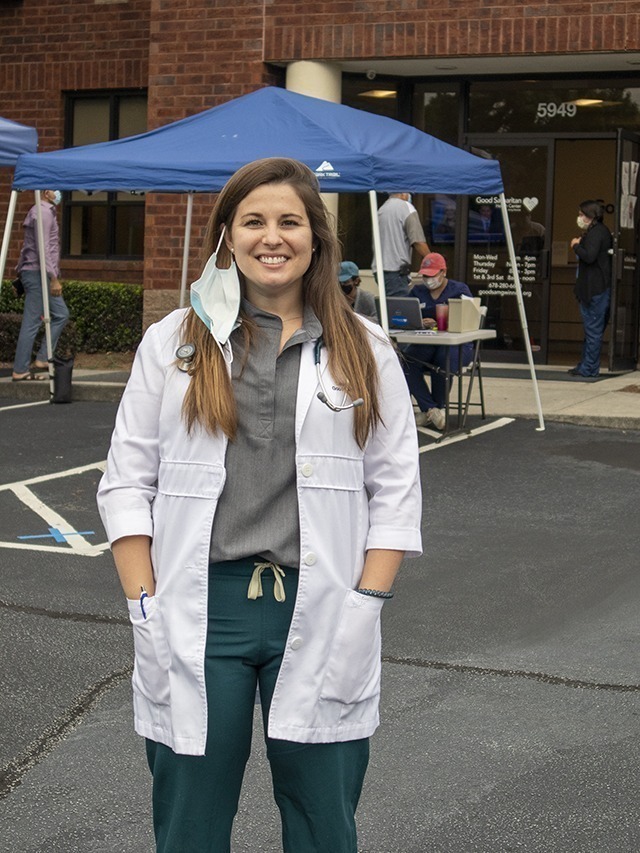 Ministry work can be difficult at times, but it's always rewarding to those who are called. Laura Martino, the Director of Clinical Operations at Good Samaritan Health Centers of Gwinnett (Good Sam Gwinnett), has learned this lesson through the eight years that she has worked at the Norcross-based nonprofit serving poor and uninsured individuals in Gwinnett County.  
She started Good Sam Gwinnett as a nurse practitioner student volunteer while completing a Master of Science in nursing at Emory University. After her first year as a nurse practitioner, she returned to Good Sam Gwinnett to volunteer on Thursday evenings. 
Eventually, her volunteering every week became a part-time job and then a full-time job. Now, five years later, as Martino reflects on her experience at Good Sam Gwinnett, she sees God's providence through the good and the bad.  
Finding her Place
During college, Martino struggled figuring out what she wanted to with her life. She considered a bevy of majors, including English, psychology, and physical therapy, before landing on health and exercise science, which was her first bachelor's degree. However, that still did not feel like a good fit. 
Martino finally chose the path to nursing in "the eleventh hour." It wasn't a profession she had ever expected to choose, but it has proven to be a perfect fit for her. Moreover, she cared about having a career where she could help people, and she had ministry on her heart. Good Sam Gwinnett turned out to be a good mix of healthcare and ministry. 
"There can be a tendency in medicine to want to make a lot of money, to want to have notoriety, to want to research more, see more patients, and do more," she said, "and I didn't feel like that was the goal [at Good Sam Gwinnett]. Instead, the goal was to provide dignifying medical care for patients and remind them that they are made in the image of God and it was very refreshing for me." 
"It's good to learn and continue to be a lifelong learner and be more educated in the field that I'm in, but that alone was not going to satisfy my desire to engage in a ministry role," she continued.  
Not only has Good Sam Gwinnett provided an opportunity for her to pursue her calling to ministry, it also strengthened her Christian faith by widening her perspective on the world. 
"I have better understood the Gospel, when it says to care for the widow, the orphan, the poor, the refugee, the immigrant — those are all people who are represented in our patient population," Martino said.  
"I now see through a much wider lens than I did previously," she added.  
"I have better understood the Gospel, when it says to care for the widow, the orphan, the poor, the refugee, the immigrant — those are all people who are represented in our patient population."
Putting Faith into Action
Good Sam Gwinnett sees patients from a wide range of backgrounds, ethnicities, and cultures. The majority is Hispanic (70%), single (56%), women (68%), and about 39 years old with a median household income of $20,508 supporting 3.2 individuals. All Good Sam Gwinnett patients are uninsured. 
Unfortunately, many patients are skeptical of the medical system because of misinformation, cultural beliefs, and other reasons, Martino explained, so a large part of her job involves building trust with people. 
She has found that putting in the hard work to build trust overtime has a great payoff — and has led to patients' taking steps to improve their wellbeing. 
She shared about one of her patients who had been struggling with high blood pressure. She had seen this patient for many years and had built a strong relationship with him and his family, and was trying to uncover the reason for his high blood pressure.  
"And when it got down to it," Martino recalled, "I just said to him, 'Look. I care about you. I've been taking care of you for so many years. I care about you, your wife, and your family, and when you come in, it's such a joy for me to see you guys, and I just don't want anything to happen to you. I want to take care of you for a long time.'" 
"And his response to me was to hug me and tell me, 'I consider you family. You've taken good care of us. We love and appreciate you, and if you think this is what I should do, then I will take better care of myself." 
About a month later, the patient returned for a follow-up and had lowered his blood pressure.  
"Those things are really rewarding — when you gain trust overtime," Martino said. "Because that's what primary care is all about — establishing long-term relationships with people and establishing trust." 
Investing in Others
Along with helping patients improve their health, a significant part of Martino's job is training students of the medical professions. The same goes for every other healthcare provider at Good Sam Gwinnett. 
Martino did not expect that clinical teaching would become one of her passions. But she is following in the footsteps of her father who is a retired physician who taught at a medical school for most of his career. Over the past five years as a full-time nurse practitioner at Good Sam Gwinnett, she is grateful to have the opportunity to help others in the position she was once in — a student volunteer. 
Martino said that in many training programs, students do not get as much hands-on experience as they do at Good Sam Gwinnett. The students' experience has been described as "dignifying." Not only do they get insightful training but also mentorship. 
Martino's relationships with patients are just as important as her relationships with Good Sam Gwinnett's student volunteers and everyone else at the organization. She may work extra hours correcting patients' charts, but all that effort is worth it to see lives changed.  
"To see the life changes that occur with these students and to see the impact that our staff has and the patients have on these students is really life-giving," Martino said. 
She admits her job is difficult at times because caring for the underserved, marginalized, uninsured, and people with little understanding of how to access care is challenging. It's not just a box you can check off as your good deed. It's a calling — but a gift to those who are called.