The Good Samaritan Health Center's Kroger Community Rewards Program number is 58768. 
Help support us every time you swipe your Kroger Plus Rewards Card.
Purchases only count if your card is registered online with Good Samaritan of Gwinnett Health Center selected as your Kroger community rewards nonprofit AND you swipe your registered Kroger Plus card or enter the phone number that is related to your registered Kroger Plus card when shopping.
How to Set Up A Kroger Rewards Online Account
Go online at krogercommunityrewards.com. 
Be sure to have your Kroger Plus card handy. 
If you do not yet have a Kroger Plus card, they are available at the customer service desk at any Kroger.
Do you use your phone number at the register?  Call 800-576-4377, select option 4 to get your Kroger Plus card number.
Click Sign in or click Create Account and follow the onscreen directions to set up your account.
Already Have A Kroger Rewards Account?
Start Here to Select Us as Your Community Rewards Nonprofit
Sign in at krogercommunityrewards.com.
Click on My Account
Click on Community Rewards
Search by our name "Good Samaritan Health Center of Gwinnett" or our nonprofit number "58768" and click enroll.
2019 FUNDRAISING GOAL: $1,600,000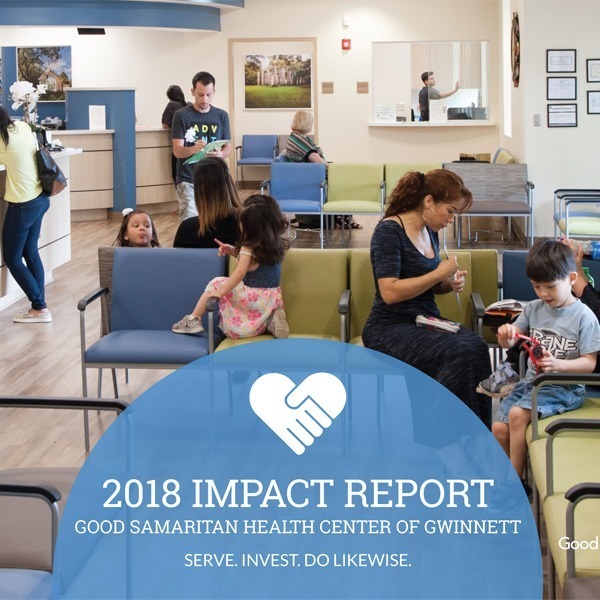 Take A Closer Look At All We've Accomplished
Our 2018 Impact Report shows the impact GoodSam continues to make in the Gwinnett community and how your donation makes our work possible. Read it here.
"This organization is vital to the well-being of our community and I am proud to be a donor."