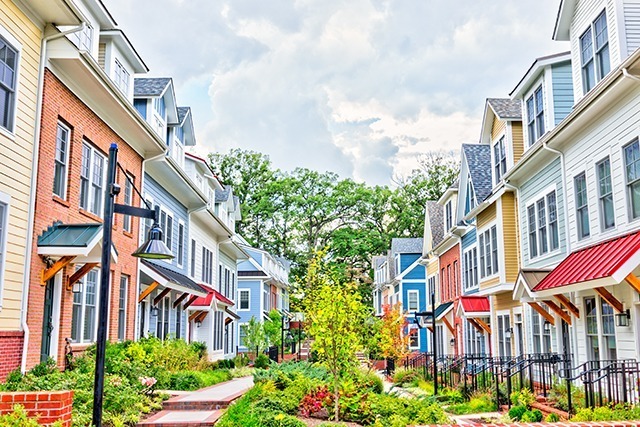 That's what neighbors are for!
The word neighbor originated in old English, where it referred to "the boor that is nigh thee." Today, we may simply think of our neighbors as those people living next door or nearby, or better, those living nearby with whom we share the joys and tears and ups and downs of life.
A neighbor, whether next door or blocks away, is someone who first and foremost we are to love as we love ourselves. If only this level of concern, compassion, and intimacy were actually achieved! Nearly every problem in families, neighborhoods, and communities would be resolved, and goodwill would become widespread.
My wife and I recently moved. We were worried we would never again have the neighborly relationships we had developed after living fourteen years in one place, and we were thrilled to learn our worry was pointless. Within days of moving into our new home, neighbors appeared with treats and warm welcomes. One night a storm tore a large limb from a tree in our front yard, and I looked at it knowing days would pass before I could get to removing it. I phoned my neighbor to assure him I was not going to ignore it and asked for his patience. That afternoon, when I arrived home I saw that the limb was gone. My neighbor had taken care of the task for me. "That's what neighbors are for," he said with genuine cheer. I can't wait to return the favor!
How have you defined your neighbors? How do you engage them? Is it time for a social reset?
A few weeks ago, we sent you a Save the Date message for Thursday, October 3rd inviting you to attend the Good Neighbor Gala benefitting Good Samaritan Health Center of Gwinnett.  In years past, we called our event the Hearts & Hands United Celebration.  Many of you expressed just how much you enjoyed the celebrations because it was unlike other annual events; it felt like a neighborhood block party and gave all a chance to socialize with friends, new and old.  Our hope with the new event plan is to preserve that neighborhood feel and elevate the experience and result of our largest, most important annual fundraising effort for Good Sam Gwinnett.
We will celebrate our 15th year serving Gwinnett County in June 2020. God willing, by that time we will have moved our second clinic, Good Sam East, to its new home where we will be better able to accommodate the continued annual increases in demand for our services. By then, we will almost certainly be on track to serve 40,000+ visits a year to our medical, dental, dispensary, counseling, and education programs. We need your help to care for so many of our neighbors.
Dear neighbor, we ask you to support our work by attending the Good Neighbor Gala on October 3rd. The beautiful Ashton Gardens in Sugar Hill comfortably accommodates our guests, offers an excellent cuisine and plenty of parking, including valet.  We will have an incredible guest performer, and the program will include a silent auction offering unique experiences, a fun wine raffle, and Fund-a-Smile, our main fundraising activity for the new location's expanded Dental program. We invite you to make your ticket purchase here.  We have only a few dozen early bird tickets on a first-come-first-served bases, so if you'd like to save $10 per ticket, purchase your tickets soon. Of course, if you would have loved to join us but unable to do so, we will be so grateful for any gift you may decide to offer.