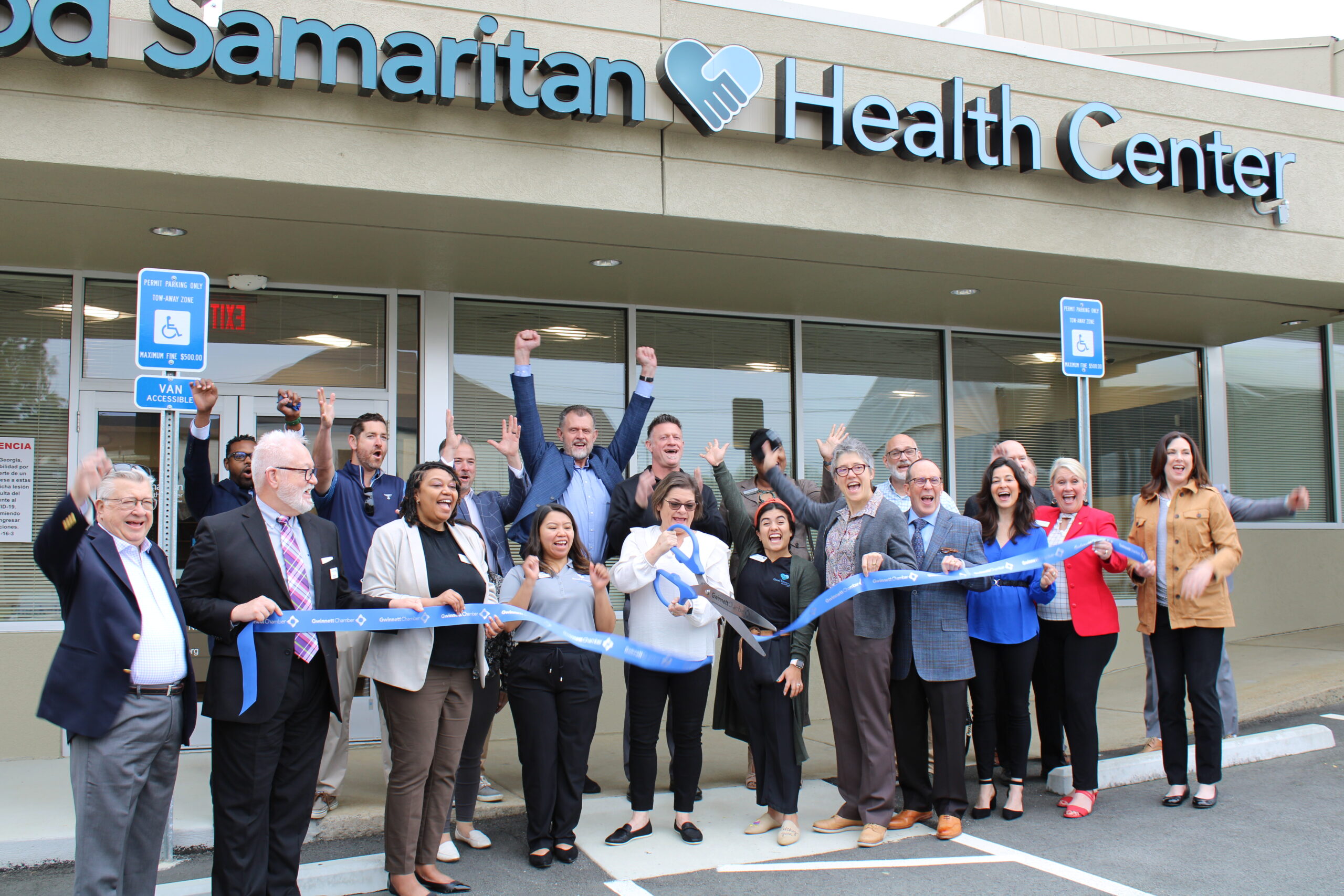 Cutting the Ribbon for our East Gwinnett Clinic
In October 2020, the Good Samaritan Health Centers of Gwinnett (Good Sam Gwinnett) opened a charitable medical and dental clinic at 1175 Commercial Ct., Norcross — during the height of the COVID-19 pandemic. As the world gradually returned to "normal," we were eager to give our clinic a proper opening celebration. 
Partnering with the Gwinnett Chamber of Commerce, the organization with two nonprofit clinics in Norcross hosted a ribbon-cutting ceremony March 30 in front of the Commercial Court location. About 30 people gathered in the clinic's parking lot and lobby, including members of the Gwinnett Chamber, Good Sam Gwinnett employees, and other supporters in the community.  
During a tour of the facility, Executive Director Dr. Greg Lang shared stories of the medical staff the organization has trained.  
"I'll try not to cry while saying this," he said to the crowd. 
Each year, dozens of students come to Good Sam Gwinnett to volunteer and gain experience in the field, Lang explained, and many of them end up working at the clinic.
"We train them and pray for them as they apply to nursing or PA schools," Lang said.  
He pointed to three staff members in the crowd who have recently been accepted into a physician assisting school. All three started out as volunteers and were later employees. They will be missed, but Good Sam Gwinnett is proud of their journeys. 
Furthermore, Lang shared about the rich experience students get in our clinics. They are exposed to diseases they would typically only read about — like malaria and leprosy. And they're also challenged to approach patient care in a different way; they learn to prescribe treatments that patients without health insurance can afford, making sure they get the healing they need without breaking the bank.  
Good Sam Gwinnett serves patients who don't have health insurance, charging 25% of what they would have to pay out of pocket at other clinics. Those prices are far less than actual cost, and donors help cover the difference.  
 "We are thrilled to have such a great support from our community," said Director of Development and Marketing Greg Johnson. "Together, we are making a difference in the lives of thousands of individuals and families with quality health and dental care in Gwinnett and surrounding areas." 
Our Beginnings
Lang inspired eventgoers with how the organization was started. About 18 years ago, several physicians hosted a health fair in Gwinnett County. They were overwhelmed with the need for affordable healthcare among people who did not have health insurance, and were inspired to do something about it. 
"What started as an attempt to address what was thought to be a small problem became a much-needed and larger resource today," Lang said. 
The Good Samaritan Health Center of Gwinnett (a single clinic) opened in 2005, and 2009, dental services were added. After a relaunch in 2010, the clinic relocated to a larger facility in 2015 and expanded to a second location in 2018. Eventually outgrowing that facility, and the second clinic relocated to its current home on 1175 Commercial Ct.   
Interestingly, the new building used to be a restaurant and nightclub, but after some renovations, it became a well-functioning medical and dental clinic. Good Sam Gwinnett is the largest provider of charitable dental care in Gwinnett County, employing three dentists and operating 12 chairs across both locations.