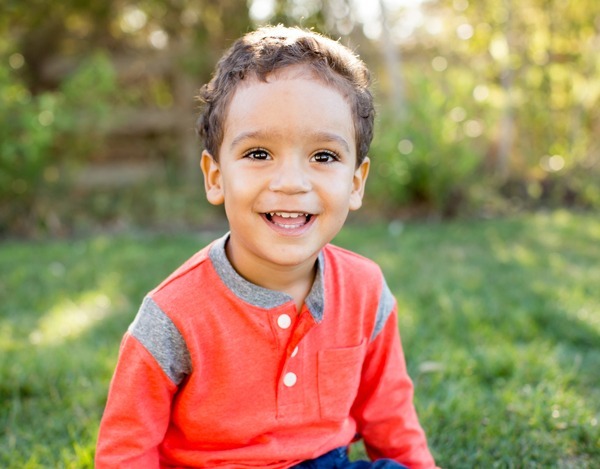 So far this year, we have provided more than 10,300 service encounters to the poor and uninsured of our community. Marketing consultants advise me to give you stories rather than statistics, and I struggle to select the one story that will describe everything we do. But recently I learned of a little boy and his story so perfectly captures the essence of what goes on at Good Sam Gwinnett, I must tell it to you. We have not provided him a medical or dental appointment. We have not administered vaccines or given him vitamins. All we did was pray for him before he was born. A while back, we told his mother that she was pregnant, and immediately she asked if we could help her obtain an abortion. Instead, we prayed with her and asked God to give her the strength to pursue His will. She left without the information she requested, and a year later she returned to the clinic with this picture:
You, our donors, are as responsible for this smiling little boy as anyone, for your financial gifts make it possible for us to decline any funding that would require us to seal our lips about the Christian faith. Your gifts make it possible for us to pray and praise God, and that my friends is a better balm than anything else at our disposal.
This is Mental Health, Lupus, and Stroke Awareness Month. Please take time to say a prayer for anyone you know who is living with one of these health concerns. Another issue that deserves our awareness is the importance of oral health. Did you know a bad tooth can result in medical bills exceeding $16,000?
Did you know a bad tooth can result in medical bills exceeding $16,000?
The greatest benefit the Gwinnett community realized through supporting our effort to relocate and expand services is, without doubt, the charity dental practice we now operate. We have completed more than 1500 dental appointments since August 2016. Conservatively, we believe that activity has led to the avoidance of $1.5M in medical debt. I recently read a NYT article that reminded me of just how serious a problem the lack of affordable dental care can be for an individual and the community. If you would like to help address the dental care needs of the poor and uninsured, please make a gift to the Good Sam Gwinnett and designate it to the Smiles Work Fund.
As important as our mission to provide health and dental care to the poor and uninsured is, our mission to raise up future medical missionaries. Since moving to our new location, we have had 42 graduate students complete clinical practicums within the clinic. We believe exposing students to the needs and challenges of the poor and unhealthy not only increases awareness of the problem, but serves as a call to duty. Many students have committed to volunteering within a safety-net clinic. Glory be to God that the ranks of Christian disciples increase through the work of Good Sam Gwinnett!